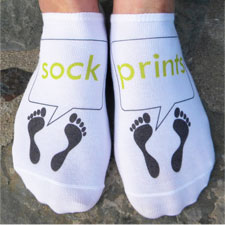 About Us

In 2009, what started out as a "just for fun" idea of printing a few pairs of socks for our girl's club soccer
team has evolved into "Sockprints", a web-based sock printing company specializing in personalizing
and custom printing on socks. One of our partners is a former Alpha Chi Omega Chapter (University of Utah) and Panhellenic President, and it didn't take long for her to recognize what a great product sockprints would be for sororities. Sockprints is thrilled to be an official licensee for all 26 NPC sororities.

We invite you to check out the original design options for each sorority and happy to work with you on custom designs. If you do not see your sorority listed, contact us and we will look into the possibility of adding it to our current list.

Whether you are looking for knee high socks, crew or no show socks, we have your feet
covered. Get as creative as you want – your very own personalized, custom socks are waiting!
We look forward to printing socks just for you!

Questions? Contact us.

Ready to order? Let's get started with your design…


Sockprints is a cutting edge consumer products company that utilizes the latest apparel technology
to provide you with fun, creative ways to personalize your appearance. With our custom printed socks,
we have perfected direct to garment printer techniques that allow for a brand new way to produce small
quantities of socks. We specialize in unique and original designs that are perfect for gifts, new member
recruitment, big and little events, parties, holidays, fundraising, intramural sports and more!